10 Ways to Make Your Bathroom Look Expensive
If you want your home's bathroom to exude elegance it normally comes with a price tag. We have compiled a list of "10 Ways to Make Your Bathroom Look Expensive" to prove that a stylish bathroom renovation doesn't have to break the bank.
Be sure to do your homework and spend the proper budget for the construction and plumbing installation. Not sure how much a home bathroom renovation should cost?
Download our Bathroom Remodeling Cost Guide Today!
This FREE ebook is the key for any homeowner to not only learn about bathroom remodeling budgets but what to expect during the renovation process. You will not regret it.
It's OK to pick a few "must haves" items that you want to splurge on, an expensive design doesn't has to come at a cost. We hope this list of tips from our years of experience will put a smile on your purse strings and make your home's bathroom the envy of all of your friends. They will all be wondering, "how did they afford this"??
1. Matching Metals
One of the most simple ways to make your bathroom look expensive is to make sure all of the plumbing and accessory fixtures match. Keep with the same finish and shop the same collection to assure you do not have a mishmash of style, color or texture. Follow this tip for faucets, cabinet hardware, shower curtain rings, toilet paper holders, towel racks and all other metal finishes.
For a luxurious feel I love the Moen Genta collection in the Matte Black finish.
LICC Inc.- Stony Brook, NY
2. Put Time into your Textiles
The addition of fresh towels, bath mats and shower curtains are one of the best ways to make a bathroom look well put together and easy on the eyes. As previously mentioned, match the curtain rod to the other fixture finishes and remove all the old plastic hooks to let your curtain shine. Take the time to fold crisp hung towels with purpose and neatly fold any extras that are on a shelf for display.
3. Remove All Clutter
As you're flipping through HGTV photos or pinning your dream spa bathroom do you see toothpaste tubes and kids cup alongside the sink? I think not. As a mother of two I understand the need for convenience, but clutter is the sure way to take the expensive out of your updated powder room. I suggest investing in storage cabinets or placing inexpensive bins under the vanity. It will not only keep a chic space but will make cleaning up a breeze too.
4. Upgrade the Shower Head
An expensive shower system with 4 body jets may not fit into your bathrooms budget but try the next best thing, a rainfall shower head. A rainfall shower head not only adds the look of tranquility and sophistication but gives you the actual feel of taking an "expensive" shower. The overhead design means the water falls straight down, just like rainfall. And believe it or not the spa shower experience won't break the bank. I found options on Home depot, Lowes and Amazon ranging $25-60. Yes, please!
5. Find the Perfect Mirror
Mirrors aren't just utilitarian. When you're looking for a mirror or medicine cabinet to hang above the vanity, look for a beautifully styled mirror that doubles as decoration. To really elevate your bathroom look for an over-sized mirror or one that reaches the ceiling. The look not only creates the feel of space but a little flare. I love mirror with an interesting or unique shape paired with surface mounted sconces. Perfecto!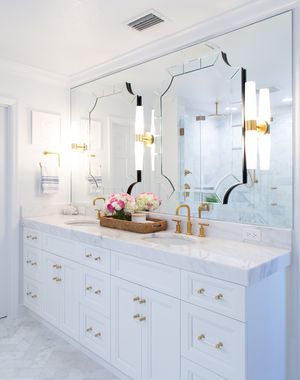 6. Hang Art
Art isn't just for the living room or the hallways of your home. Why not hang a framed picture over your tub? It could be a favorite painting, a soothing landscape or anything that you'd want to enjoy looking at while soaking at lavish hotel getaway.
7. Add an Accented Tile Niche
A shower niche or recessed shower shelf can be part of a unique decorative effect that adds interest to the shower's design and enhances the overall aesthetic of the bathroom. If the tile you love is priced at a whopping $10 a sq ft. you may not be able to afford a full wall but you can still get the look incorporating it as an accent niche with one or two sheets.
www.decorpad.com
8. Use a Large-Scale Light Fixture
The addition of flush-mount chandelier can make a big impact overhead, but won't take up any of the room's physical space. Remember, space is your biggest luxury.
9. Emphasize Original Features
If your bathroom is blessed with original features, it's worth ensuring you're making the most of them. Simply positioning a freestanding bath in front of a beautiful original window will draw attention to it, creating a focal point and surely add to the five-star feel of your space.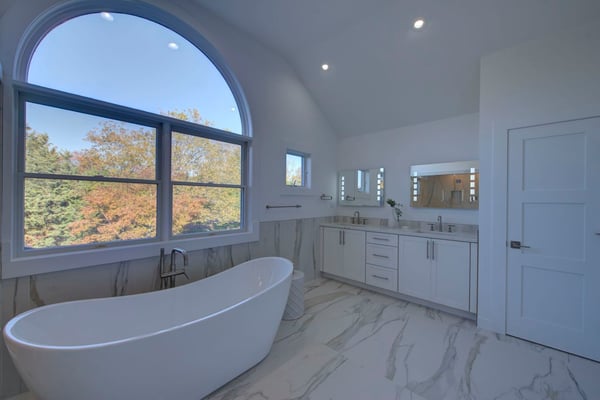 LICC LICC Inc.-Remsenburg, NY
10. Monochrome Design
It doesn't get more sophisticated than an all black and white scheme in a luxury bathroom. Re-create this look by picking out striking black tiles. We love these honeycomb ones from our friends at The Tile Shop of Commack, NY. Add some personality with monochrome prints and bathroom accessories to make your bathroom look expensive.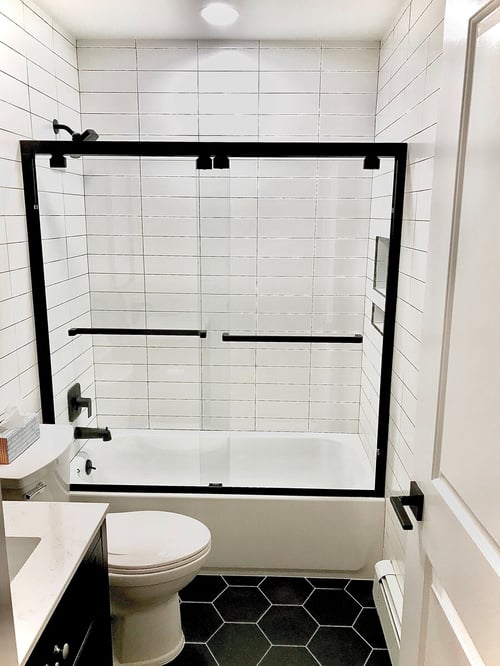 LICC. Inc-Port Jefferson Sta., NY
We hope you enjoyed reading our "10 Ways to Make Your Bathroom Look Expensive" list to create your own "faux" extravagant master bathroom or powder room. Please take a look at our Services web page to answer more questions on bathroom modeling and other home renovations.
If you your thinking about upgrading your home's bathroom and may need financial assistance, read more about how Long Island Creative can help.