Black and White Bathroom Ideas for 2022
When it comes to classic color combinations, it doesn't get more stylish than black and white. The year 2022 has had our clients loving the contrasting color scheme throughout their homes. Whether it's the strong welcoming of a black entry door or the sleek framing of a picturesque window, black and white make a great impact.
This year we saw the timeless black and white duo trend heavily within our clients' bathrooms. From rustic retreats or even polished and modern, black and white has become the bold "go to" that can mingle with any style. Let's take a look at Long Island Creative Contracting's latest black and white bathroom renovations and some great tips to inspire your next black and white bathroom project.
Practical and Easy
A black and white bathroom is versatile and is a great decorating trend to introduce into a home. This color scheme is so versatile. You can play with different patterns, and accent colors, all while still maintaining the elegance of your bathroom by simply swapping out your bath mats, towels, or wall art.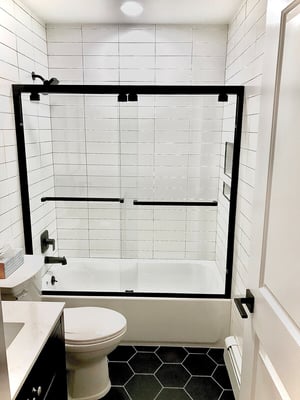 Project Spotlight
Although black and white are synonymous with sleek and expensive, we see it as practical and easy for this Port Jefferson, NY hall bathroom. We loved the use of large, 6'' Matte Black Hexagon Porcelain Tile for this family of four. Although mainly used for (2) growing boys, we kept it versatile for the use of house guests and many years to come.
The use of 4"x12" white stacked tile really puts a modern twist on the more traditional 3"x6" subway look. The gray "raven" grout adds a softer look to the bold black and white bathroom but still gives the look a punch.
Click here to read the homeowners review.
Fixtures to Accent your Black and White Bathroom
A bathroom doesn't need to be painting from floor to ceiling in black or white to make an impact. Something as simple as swapping all the fixtures in your white bathroom to black accents is an easy, but visually striking update.
As mentioned in our past blog, "10 Ways to Make your Bathroom Look Expensive" we mention that Moen has a great selection of Matte Black plumbing fixtures. I love the "Genta Collection" for a modern feel as well as the options offered by Vigo, Delta, & Pfister. All have an array of choices both modern and traditional.
Now, what if you're looking to brighten up a predominantly black bathroom? Try mixing in a metallic element of Chrome, Gold, or Brass. Gold tones add a bit more glam, while silver feels modern. Don't forget to change out your vanity hardware & pulls as well. These little details really tie the look together.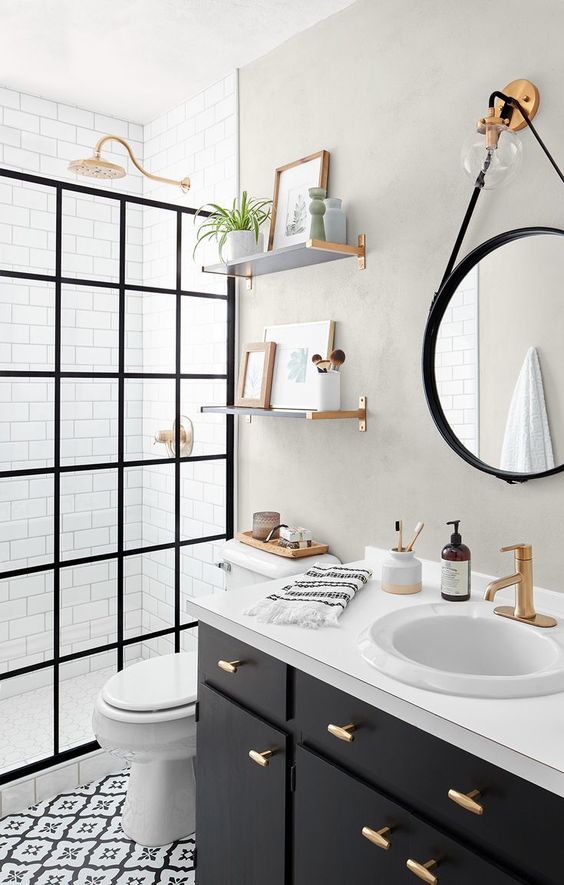 How to Create a Black and White Spa Bathroom
Sure we would all love to spend our days at a relaxing retreat but unfortunately, that just ain't happening. So how do we incorporate the feeling of tranquility into our homes? Let's start with bringing the outdoors in with some natural elements. Wood is a wonderful addition to creating a spa-like bathroom and adds texture to a black and white space. A rustic free-standing wooden vanity or wall-mounted floating shelves can serve this purpose. Be creative and try pine or weathered oak gray tones for an inviting warm element to your black and white spa bathroom.
A great 2022 bathroom trend is the addition of bamboo. Incorporate this traditional spa element as a stool to a spacious steam shower or even lay down bamboo floor mats. Clients really like the contrast of the golden-tone wood bouncing off black or white surfaces.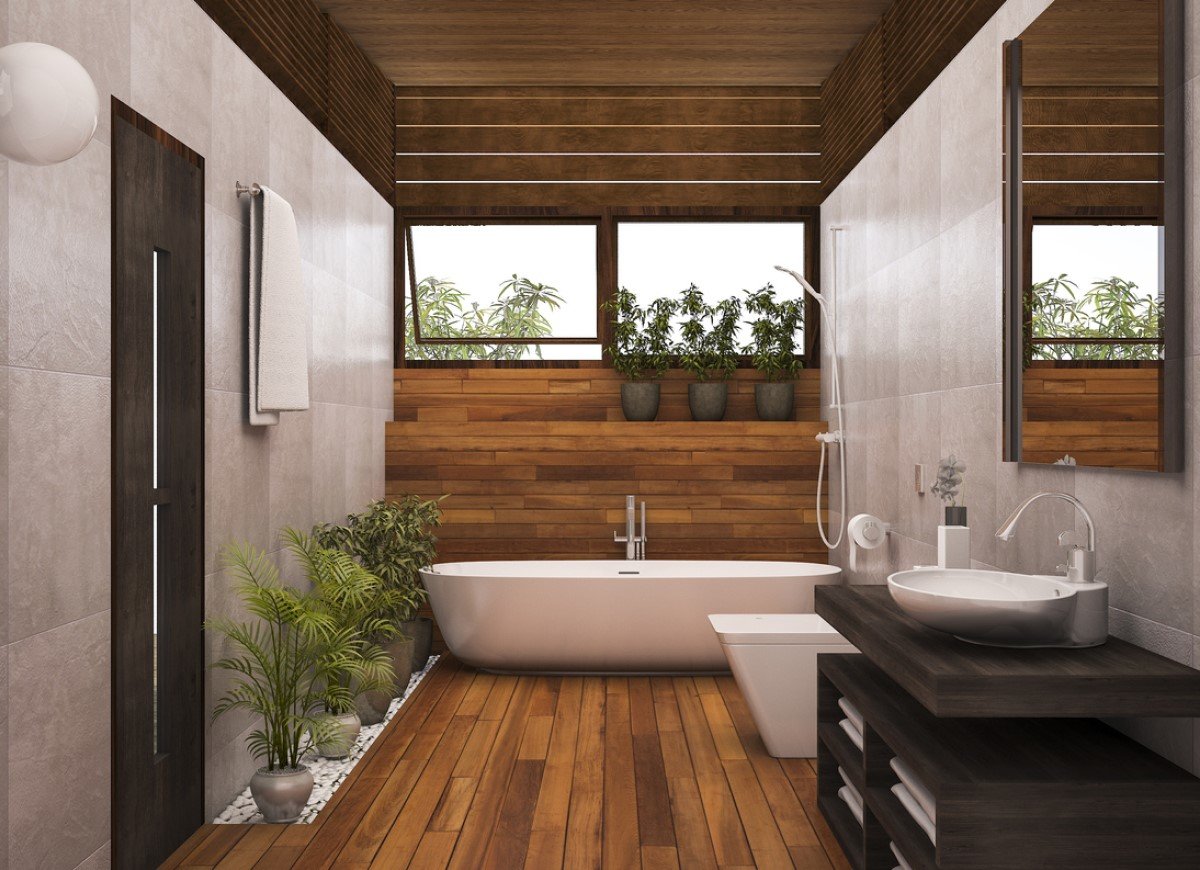 *Pro Design Tip: With a few scented candles and the right music, and you can have a rejuvenating and relaxing dip at home every single day!
Give them Something to Talk About
Create conversation, and add a pattern to a traditionally monochromatic combination. Contrary to popular belief, both black and white can also feel subtle in certain spaces. That is why they work great as basic pallet for an even greater focal point.
1. Shower Curtains
Shower curtains have come a long way, so if a sleek black framed glass shower door is not in the budget, go for an attractive shower draping to take its place.
2. Wallpaper
How about wallpaper? Wallpaper can add character and make a space feel elegant and put together. If a room is small and has no interesting architectural features, wallpaper can make it shine. For instance, a powder room.
Source:

Regards et Maisons & claxy.com
3. Tile
Tile is a beautiful addition to any bathroom but really shines in the company of a black and white pallet. Tile can take a clean sophisticated space to a new level and like wallpaper, it's a great way to incorporate patterns and texture as a creative focal point.
Choosing the right tile and pattern will not only make a bathroom feel more spacious but can create a sense of light in what could easily be a dark space.
Why we love Black and White Bathrooms
You can't go wrong when you're choosing a black and white color scheme for your bathroom. It's classic, it's bold, it's soft, its a style chameleon. Whichever way you use it, you're guaranteed a show-stopping room that will be a timeless addition to your home.
We hope you enjoyed some of our, "Black and White Bathroom Ideas for 2022". Don't be afraid to experiment and explore this trend, something tells me it's going to be around for a long time.
Long Island Creative Contracting
Please take a look at our Services web page to answer more questions on bathroom modeling and other home renovations.
If you your thinking about upgrading your home's bathroom and may need financial assistance, read more about how Long Island Creative can help.