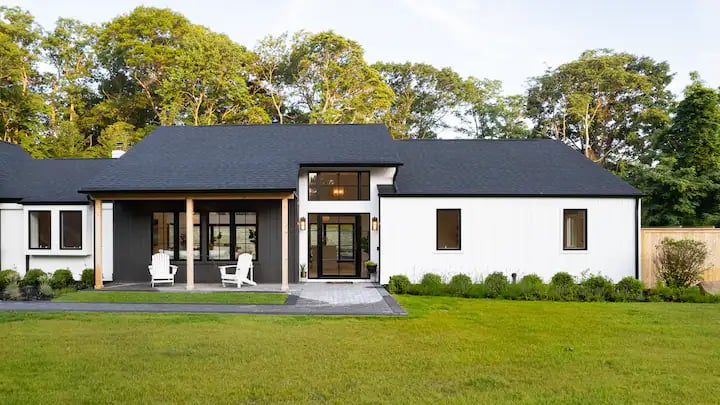 A big design trend that is taking over Long Island, New York is the timeless look of a Modern Farmhouse. This great spin on a traditional farmhouse look is easier to achieve than you think. If you don't have the money or the time to design and build your dream farmhouse from the ground up, there are plenty of renovations that you can apply to your current home. Long Island Creative Contracting, Inc. has incorporated many of these renovations all across the island from Rocky Point to Dix Hills, New York.
But, before you start your home's transformation into the ultimate Modern Farmhouse you should have a clear plan for both the Interior and Exterior. With any home renovation, it's important to plan ahead and educate yourself on the big picture. Long Island Creative Contracting, Inc. has broken down the styling, the must-haves, and the fundamentals to give your home the complete Modern Farmhouse Renovation with some great "Pro Tips" along the way.
Interior Remodeling Tips for a Modern Farmhouse
When designing a Modern Farmhouse, there needs to be a certain level of sophistication so that when adding accessories, keep them to a minimum. Unlike "country" Farmhouse styling, "modern" Farmhouse uses white or light neutral colors with a cleaner, more rustic contemporary look, while country styling commonly includes bright and pastel colors, with the incorporation of floral or gingham patterns.
Whether you are on the Northshore in Belle Terre, or Southshore in Remsenberg, below are some great farmhouse design and remodeling tips to take your home to the next level.
Baskets-

Looking for styling accessories? Modern farmhouse design is highlighted best with functional accessories in form of natural materials like wire, rope, or wicker.

Metal Accents- Metal is beautiful as hardware or sculptures. Layer in some mixed metals by way of light fixtures; hardware; and architectural details, like railings.
*Pro Design Tip: As a general rule, it's best to use no more than three metals per room.
Vintage Farm- Architectural salvage or items that look distressed are great placed throughout the home.

Big Comfortable Furniture- You want your home to feel lived-in but not overcrowded. Stick with fabrics like cotton, canvas, wool, and chenille.

Reclaimed Wood- Think ceiling beams, barn doors, open shelving, or accent walls.

Wide Plank Floors. Wood is ideal but wood-style tile planks are also a great option. Thinner planks give off an older country feel rather than a "contemporary" farmhouse.

*Pro Design Tip: Redo your pantry or hide the laundry room behind a beautiful barn door. Try salvaging a vintage barn door or choosing a modern shiplap barn door finished with unique iron or black metal hardware.
Neutral wall paint: Start with a color palette of warm or cool neutrals (cream, beige, silver, sage, and gray all work well), and then layer in some natural wood tones. Feel free to use colors you're fond of as accent pieces, but in order to stay true to the look, try to keep the overall color scheme neutral, with light colors. Contrasting black elements add a bit of edge.






Interior Designer Gina Ireland, of "Gina Ireland Interiors" chose to use Benjamin Moore's paint Alabaster for both the walls and ceiling in a flat finish and Minwax's Ebony for the exposed vaulted ceiling beam. The hidden pantry wall is showcased with a wide shiplap plank for that farmhouse feel- Dix Hills, New York.

Update your kitchen Sink- Hello! Nothing screams the words "farmhouse Kitchen" more than "Farmhouse Sink or Apron Sink". A farmhouse sink or Apron sink is a deep-cut sink that can have an exposed front. White farmhouse sinks are commonly used and made of fireclay or porcelain, but Stainless steel has become very popular when incorporating the "Modern" feel of a Modern Farmhouse kitchen design. Not only are these deep sinks visually appealing, but they're also extremely functional compared to smaller double-sink options. The large basin style typically has a slight overhang, making it easier to wash large pots, pans, and baking sheets without water runoff!
Exterior Remodeling Tips for a Modern Farmhouse
How can I renovate my exterior into a Modern Farmhouse?
Renovating the exterior of your home as a Modern Farmhouse follows similar rules to renovating the inside of your home. Less is more. Keep the styling simple and clean with the primary colors in the neutral family. Bold colors such as black are great as accent colors for window trims, doors, and hardware. Continuing the mix of metals and rustic woods creates textures and the ultimate Farmhouse look with a contemporary undertone.
Check out our client's favorite exterior renovations and accents that have changed their dwelling to reflect the elegant but homey feel of a Modern Farmhouse.
Board And Batten Siding- A popular farmhouse siding style are called, "board and batten". It's essentially the outdoor cousin of shiplap, or tongue and groove. It's where wooden panels or planks or "boards" come together with a thin strip of wood molding or "batten." The batten works to cover the seams of the vertical planks. Also called clapboard or horizontal siding, lap is most commonly made from wood, vinyl, or fiber cement (like HardiePlank). As the name suggests, lap siding consists of long, horizontal planks that each slightly overlap the one below.
Lighting- A true farmhouse exterior isn't complete without barn lights! Gooseneck barn lights add a unique farmhouse flair to your home's exterior whether they're on each side of the front door or illuminating your driveway. Looking for something simpler? Use an industrial guard wall sconce or one with copper and tin detailing.
Metal Roof -To really give the exterior of your home that farmhouse look, opt for a metal roof. They're great for longevity, durability, and the environment. The reflective quality offers a great contrast to your siding, and metal roofs also help you get that trendy modern farmhouse look while protecting your home!

Upgrade your Garage Door- The least expensive way is by adding simple black hardware to your existing garage door or by painting it to match your already updated exterior. If you are replacing the door, choose garage doors with square windows and or rustic crossbuck wood panels for a traditional carriage house feel.
We hope you enjoyed reading Long island Creatative Contracing, Inc's blog, "Modern Farmhouse Renovations 101". To learn more about LICC, Inc. View our beautiful work in our Gallery and read our Rave Reviews. We look forward to working with you on your next home renovation.
LICC services most of Suffolk County and parts of Nassau County, concentrating on West Hampton, Speonk, Remsenberg, Rocky Point, Sound Beach, Port Jefferson, Belle Terre, Setauket, Stony Brook, and Dix Hills.