Everyone's asking the big question, What are the 2020 Remodeling Trends? As if a huge change in design aesthetic can shift in just one day. Did we see a big flip from December 31st to January 1st? Not really, but…. believe it or not we have recently noticed a swing in our customers' Pinterest boards.
When it comes to a kitchen remodel the desire for All White Everything is coming to an end. Color and texture seem to be the new look and feel for the year 2020's kitchen renovation trends. Let's explore what all the kids are talking about and maybe you'll introduce some of these new looks into your kitchens' remodel.
Kitchen Cabinets Win Center Stage
"Colorful Kitchen Cabinets"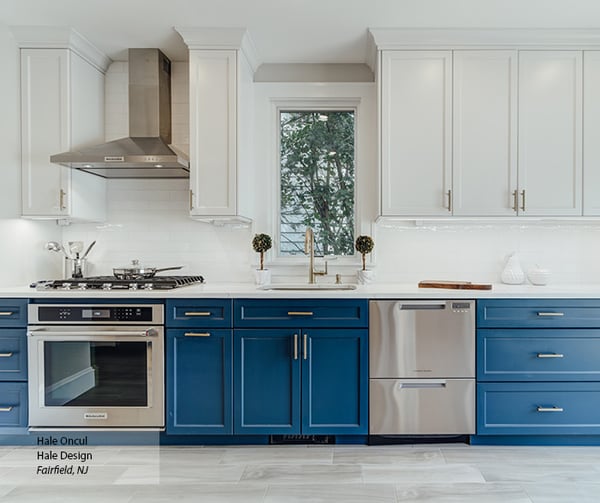 In years past appliances were the stars of a kitchens' renovation. Although it is still important to cook in your kitchen, from a design point of view the cabinets are the new leading ladies and they are not only bringing functionality they are stealing the show with pops of color.
How to Introduce Colorful Cabinets into my Kitchen Remodel
If you're hesitant in making a colorful commitment, try an "Accent Island". We love this look, the contrast works well for even the most traditional designs and maybe the key to a kitchen facelift rather than a full kitchen renovation. Try adding a white center island to break up your traditional Maple wood cabinets.
But if you want to dive into color headfirst try this 2020 colorful cabinet trend and switch it up! Go for a bold statement with your favorite shades of gray, blue, or even black.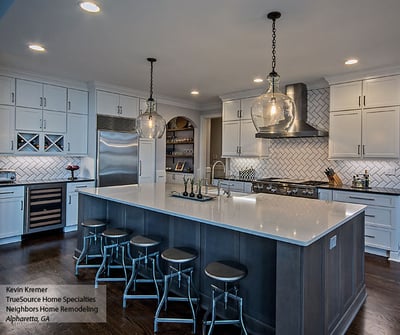 Whether your style is traditional or contemporary there is a color for everyone. Introducing a timeless color can really bring your kitchen to life. Check our Pinterest boards for some innovative kitchen looks. @liccreovation
Where do I Look for Colorful Kitchen Cabinets?
I asked Karly Labruzzo, Senior Operations Manager at A Direct Cabinetry her professional opinion on a cabinet brand for everyday clients looking to make a big splash without breaking the bank. She recommended Kemper Cabinets.
"Kemper is a customer-friendly cabinet line that gives a lot of finish options. They are "American Made" and have a lifetime warranty. -Karly Labruzzo @adrirectcabinets
Countertops
"Large Veining Countertops"
White is still very much in popular demand with Marble, Quartz, and Granite. It creates the look of a clean space and can make a kitchen look much larger in appearance. But homeowners are seeking a bit more character in their countertops lately. Recently, our client's vision boards are trending away from solid slabs and leaning towards the expensive impact of a large veined organic pattern. The look still says, spacious and clean but the vein creates a bold impact. Large veining will ease the fear of chaos alongside a statement cabinet and steer you away from a sterile appearance when matched with white slab doors. We think you will be eating around this elegant, "2020 Kitchen Countertop Trend" for a long time.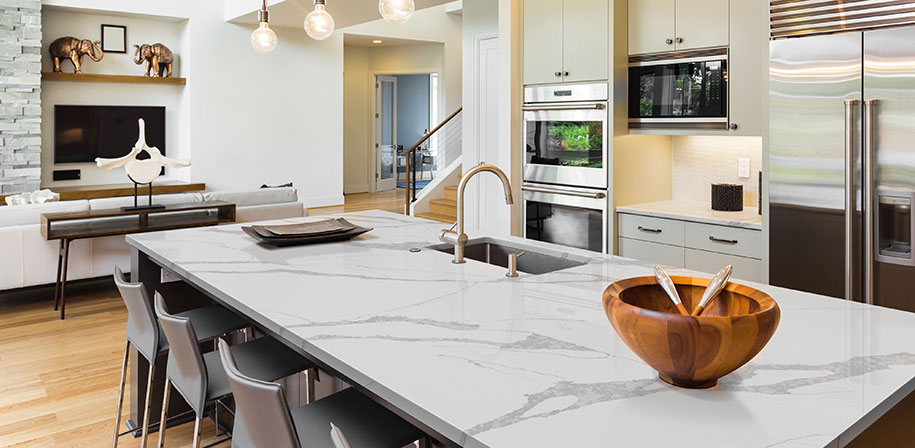 Calacatta Leon Quartz
(I recently came across a "Countertop Quiz" from MIS Surfaces. Although, I didn't agree fully with its decision for me. I think it's a cool way to see the questions we should be asking ourselves when looking for new kitchen countertops, besides just the way they look. Check it out!)
Wood Grain Flooring is Here to Stay!
"Wood Grain Flooring"
The kitchen is considered a high-traffic zone in a home. When homeowners are looking to renovate their kitchens, most of the time they are updating the flooring too. Durability is extremely important; this is one of the reasons ceramic tile was such a big trend for such a long time and still is, just in a different shape.
We all remember seeing kitchens with large and small square ceramic tiles. Although beautiful, our clients have laid this flooring look to rest. If you are considering giving your kitchen a fresh look for 2020, try waking up the design of your home with wood-grained plank flooring.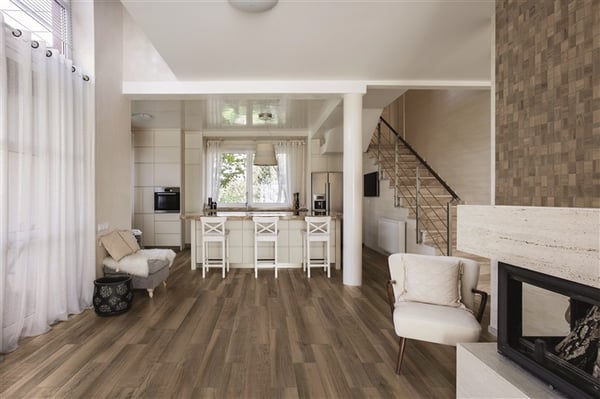 Achieve this look from Old Country Tile
Manufactured porcelain tile gives the realistic look of genuine hardwood with low maintenance and a lower cost. You will be amazed at the color options as well as the plank widths and lengths. Have you considered Vinyl? Yes, Vinyl. Like tile, the color options are aplenty, and choosing a width that suits your kitchens' style will give the appearance of real wood. Vinyl flooring is water-and stain-resistant, versatile, and provides good durability for the cost. Review your budget and see which new flooring trend works for you. When incorporating a wood grain in either flooring you can't go wrong!
The Bright Idea to "Go Geo"!
"Geometric Statement Lighting

"
Move over granny chandeliers because in 2020, Geometric Kitchen Lighting are making a loud statement.
This is my favorite kitchen renovation trend for this decade because the illuminating possibilities are endless! We took notice of flashy lighting in 2019, but the prism movement is really making a name for itself. This year, everyone is eating up this angular-shaped accessory.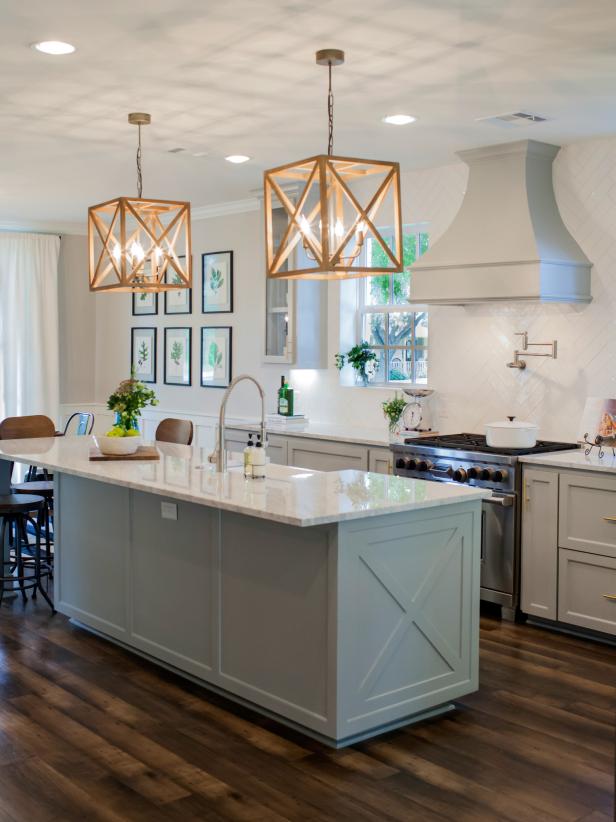 Clients are loving the open look of prism lanterns. Their open shapes bring light to the room and allow for the subtle color to pop in any finish of your choice. Brass, wood, chrome, and even matte black are all complementary to its shape allowing this fixture to be a style chameleon.
Interested in a bolder look? Consider an Orb Chandelier. Again, the finish is key. We've seen this Geometric Lighting trend in both farmhouse style with the use of rope, hammered metal, or in an ultra-modern design with a black or a steel finish. Try incorporating an openwork sphere into any kitchen design and we agree, you will not be disappointed.
Whether lantern, sphere, or rectangular shaped, the addition of Geometric Statement Lighting to your new kitchen is sure to make your neighbors will be jealous.
Natural Wood Tones are Speaking to Us
"Natural Wood

Accents"
I love bringing a little bit of the outdoors in. We are seeing Natural Wood Accents being brought into kitchen renovation designs in both large and small elements.
Traditionally, we are used to seeing wooden dining tables or kitchen islands and these trends are still very much alive. Recently, we are seeing beautifully light-stained oaks and maple in a natural finish. This craftsman-style look gives the wood a real chance to show off in its purest state.
Try incorporating naturally stained lumber into your kitchen remodel design. This can be in the form of bar stools, window casings, and lighting fixtures. Check out how this Houzz design works with our suggested, "2020 Kitchen Trends".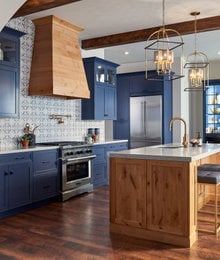 Colorful Blue Cabinets

Large Vein Calacatta Laza Quartz

Natural Wood Accents

Rich Wood Flooring

Fabulous Geometric Accent Lighting
To learn more about "2020 Kitchen Trends" in our friend Karly Labruzzo's blog, "What is the latest kitchen trends for 2020?" Karly compares, A Direct Cabinets knowledge of the Long Island, NY market with Houzz's 2020 Kitchen Trends study, done country-wide in the middle to end of 2019. @adrirectcabinets